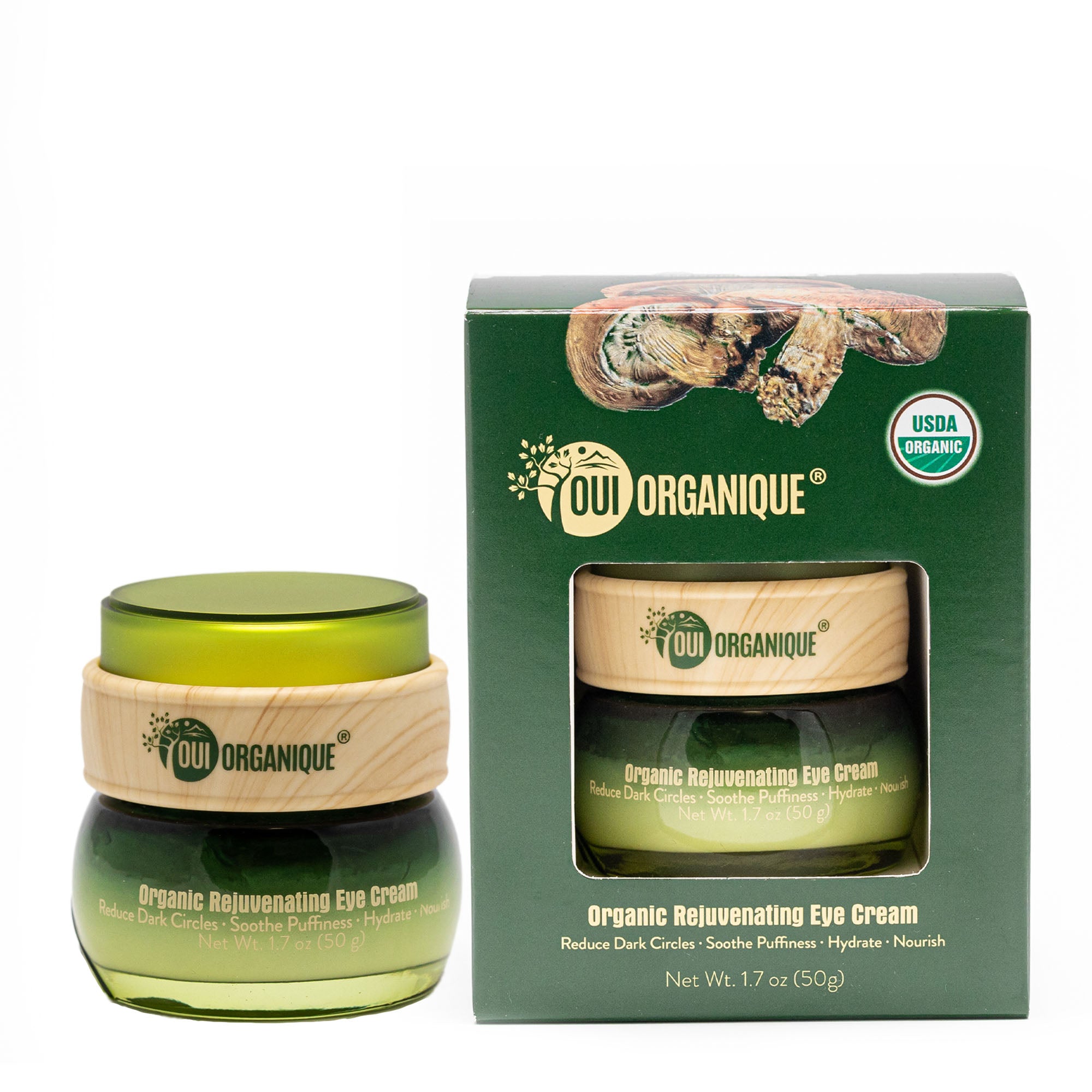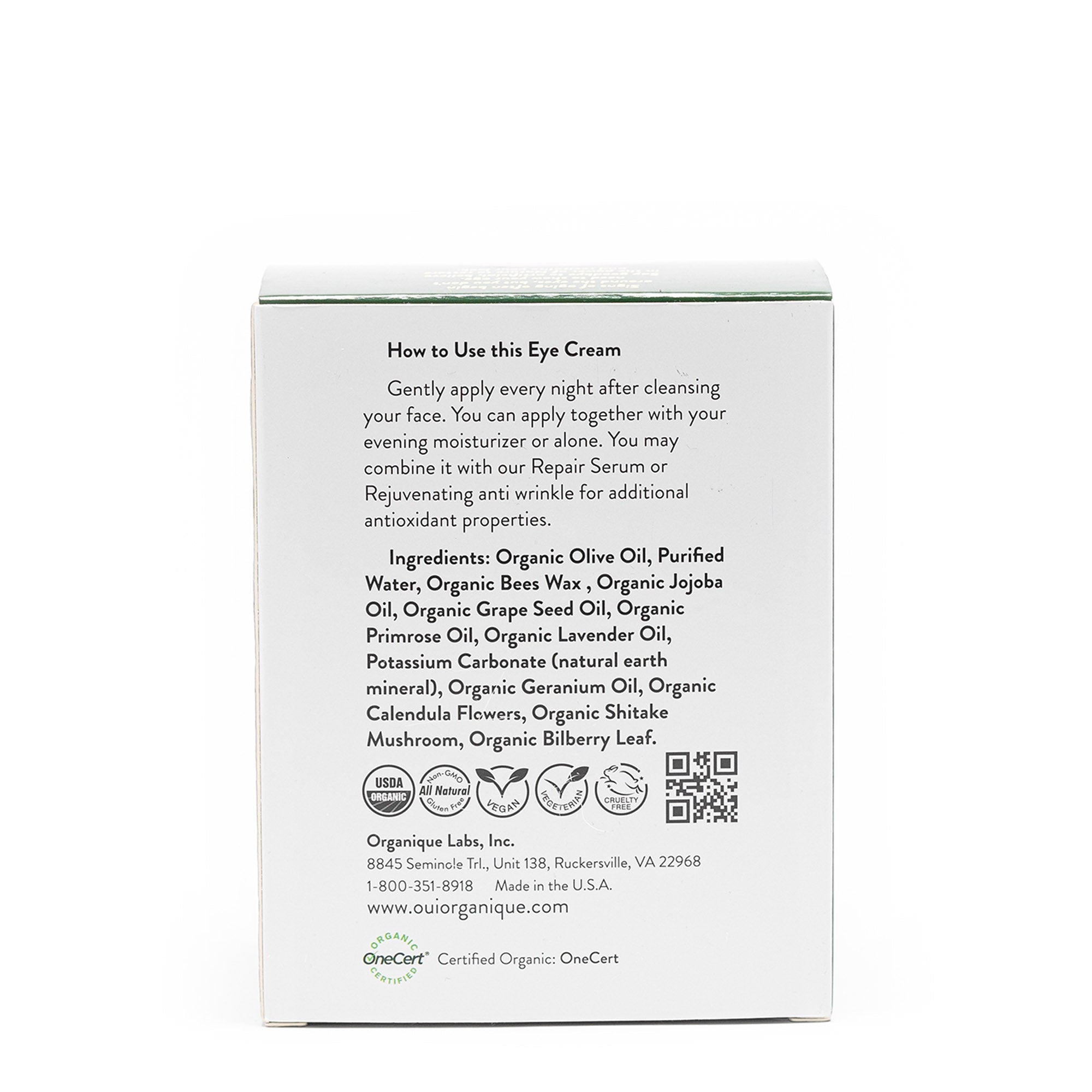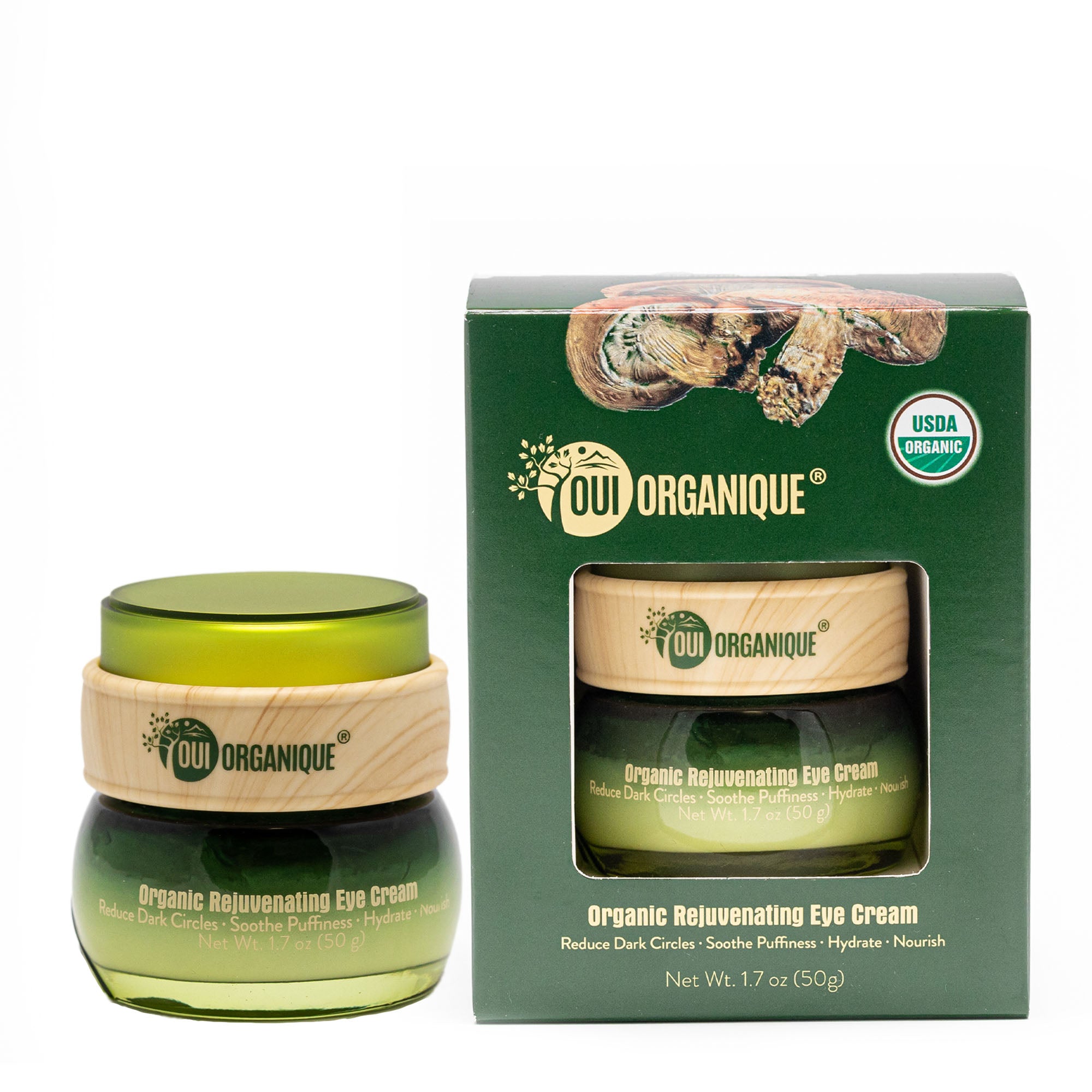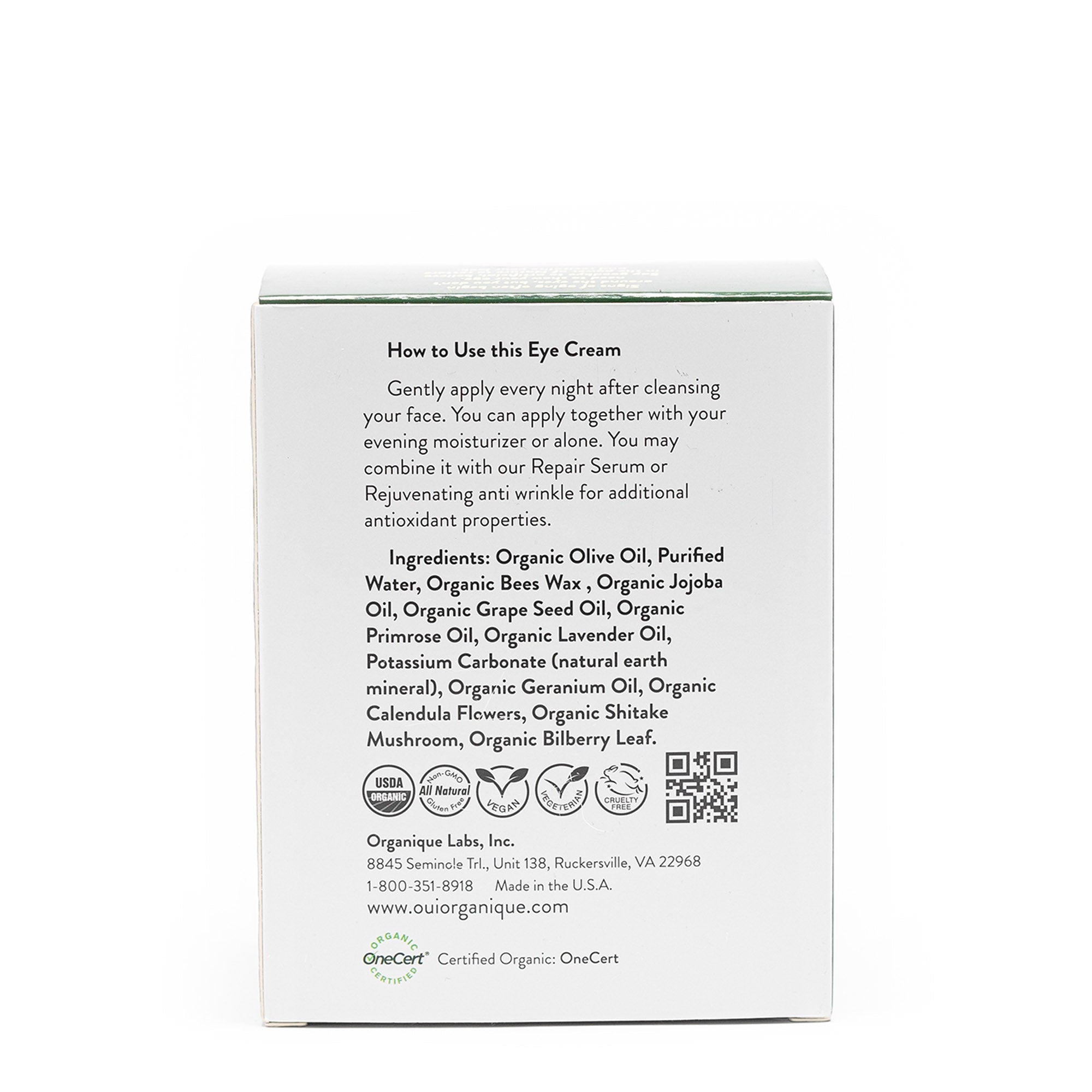 Certified Organic Rejuvenating Eye Cream Shiitake mushroom|dark circles|puffiness
By OUI ORGANIQUE
USDA certified organic

Reduces dark circles
Soothes puffiness
Hydrates
Nourishes
Enjoy Brighter & Younger-Looking Eyes with this Botanical, Anti-Aging Eye Cream
When it comes to beauty, your eyes have it! Unlock the secret to younger, revitalized eyes with our organic rejuvenating eye serum. This age-defying treatment assists in the natural & healthy rejuvenation of the delicate skin around your eyes.
Fight back against common signs of aging – reduce dark circles, hydrate and plump skin to fill in fine lines and crow's feet, and soothe puffiness (Shiitake mushroom, with the natural hydroquinone substitute, Kojic acid, could reduce dark circles and early signs of aging with a powerful antioxidant property that increases skin elasticity and prevents delicate skin around your eyes from crow's feet, and bilberry leaf improves microcirculation of the skin) and refresh your natural, youthful glow.
Packed with rich, anti-inflammatory ingredients, including extracts of Calendula flower, this rejuvenating eye cream can help you look and feel years younger. Made in the USA.
Pure + Natural Eye Cream to Protect & Revitalize Your Most Sensitive Skin
Anti-aging, botanical eye cream
Our formula includes cold-pressed essential oils that absorb quickly to immediately begin restoring thin and delicate skin. The mild and pleasant scent of pure essential oil ingredients dissipates quickly once absorbed. Non-toxic and organic restoration, because your eyes are the windows into your beauty.
• 100% natural, USDA-certified organic
• NO retinyl palmitate or retinol
• NO phthalates, parabens, or sulfates
• NO petroleum-based ingredients
• NO silk protein, fibroin, glycoproteins, or sericin
• NO fragrances, dyes, or propylene glycol
• NO gluten, dairy, soy, corn, or GMO ingredients
• Oils are hexane free, cold-pressed, non-refined, non-deodorized
• Cruelty-free & vegan approved
Signs of aging often begin around the eyes, but you don't need to show your age. Say goodbye to artificial, and believe in the power of Nature to restore and revitalize your look.
How to Use this Eye Cream
Gently apply every night after cleansing your face. You may apply it along with your evening moisturizer or alone. For additional antioxidant properties, combine it with our Repair Serum or Rejuvenating Anti-Wrinkle Serum.
(Note: Natural product subject to emulsion separation. In case separation occurs, stir before application).
Ingredients
Organic Formula: Olive Oil (EV, Organic), Purified Water, Beeswax (Organic), Jojoba Oil (Organic), Grape Seed Oil (Organic), Primrose Oil (Organic), Lavender Essential Oil (Organic), Geranium Rose Essential Oil (Organic), Potassium Carbonate, Calendula Flowers (Organic), Shiitake Mushroom (Organic), Bilberry Leaf Herb (Organic)
How to use
Clean your face
Place the sheet mask in a small bowl
Soak this sheet mask into OUI ORGANIQUE Certified Organic pH Balancing Facial Toner, or Rejuvenating serum, or your own liquid facial recipe.
Wait till fully expanded
Ready to use